Blood Collection Tube – The basics 
Blood Collection Tube, made from Plastic has replaced the glass tube for blood collection. Its important to understand the purpose of its application. Phlebotomy – is the science of Collecting any Blood Sample for the purpose of Diagnosis, Investigation & Research in a Laboratory.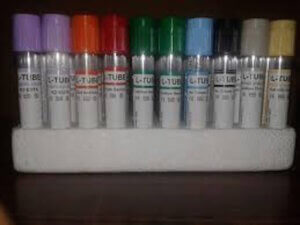 A Vacuum Blood Collection Tube is also known as a Vacutainer in the pathological fraternity. These are manufactured in a highly sterile manufacturing environment untouched by humans to maintain the desired standards ascribed to its production process. The majority of these tubes are manufactured from PET or Polyethylene Terephthalate however some glass tubes can still be found.
These Blood Tubes have a Polypropylene Cap in different colours to identify the end application with a stopper which creates a vacuum seal which in turn depicts the precise dosage of the fluid.
Examples of the colour coding of are given below:–
K2/K3 EDTA
Sodium Citrate
Variants of Vacutainers
Broadly there are 11 variants of Vacutainers being used for haematological examinations in pathological laboratories. These vacuum blood collection tubes are available in 2ml, 4ml, 5ml & 6ml dosages.
EDTA (Lavender / Purple Cap)

Lithium Heparin (Dark Green Cap)

Sodium Heparin (Light Green Cap)

Sodium Citrate (Blue Cap)

Sodium Fluoride – (Grey Cap)

SST – Serum Separated Tube (Yellow Cap)

RST – Rapid Serum Tube (Orange Cap)

Some Examples of the Packaging are given below:-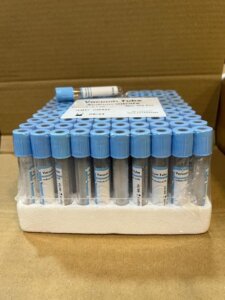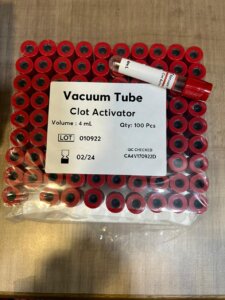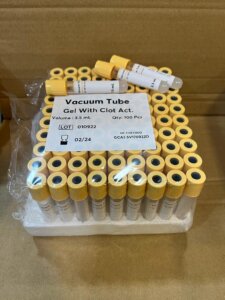 Pic #1 Sodium Citrate Tubes
Pic #2 Clot Activator Tube
Pic # 3 Gel Clot Activator Tube
For Detailed information visit:
https://pammvi.com/product_category/blood-collection-tubes/
Blood Tubes are available both in the Vacuum and Non-Vacuum Version. The Non Vacuum Blood Collection Tubes are cheaper as compared with the Vacuumized Version.
The vacuum blood collection tube prevents needle stick damage by preventing needles from coming in human contact and thus, contamination. The vacuum blood collection tube contains a double pointed needle, attached to a plastic tubular adapter. Double pointed needles are available in many gauge sizes.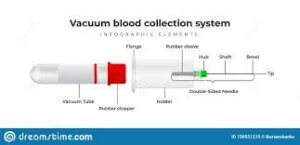 Components of Vacuum Blood Collection system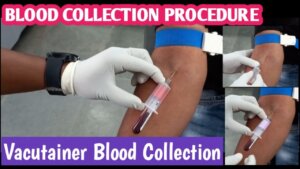 Blood Collection Procedure
Collecting Blood using the vacutainer is known in phlebotomy as the closed system of blood collection where risk factors are eliminated during the process.
Written by : Amit Gupta -Director Pammvi Group of Companies