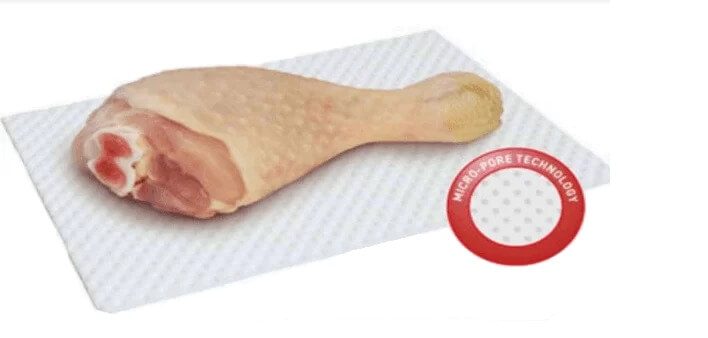 Soaker Pads
Soaker pads are commonly used in retail packaging to line the bottom of a foam or plastic meat packaging tray and absorb excess liquid and offset purge weight loss caused by storage and for packaging protection. Our meat soaker pads enhance the appearance of packaged meat by minimizing color loss and purge formation during display. Ideal for food processor to package meat, poultry and fish.
Specification
– Top Layer: waterproof PE film.
– Core layer: super absorbent polymer (SAP) with tissue fluff can absorb the excess water quickly and can lock it up.
– Bottom Layer: PE film (perforated) or non-woven fabrics.
"This Pad Is Different"
– High Quality Absorbent Polymer (Sap) Can
Perform Superior Absorption.
– Leach Resistant To Avoid Food Contact With Fluid And Sap
– Restrain Bacterial Growth, Result In Food Safety And Longer Shelf Life
Advantages
• Fully Seales Edge
• Multiple Structural Options
• Economical
• Absorbencies From 25-300g
• Standard White Or Custom Colors
• Retain 35-50% More Under Load Than All Other Pads.
• Fresh, Dry Customer Package.
• Clean Retail Cases
• Private Labelling & Oem
• Micro-pore Technology
Benefits
1. Prevent The Growth Of Bacteria
2. Keep Your Product Fresh
3. Improve Display Effect
4. Extends Shelf Life
5. Soakes Water And Remains Of The Meat/food.
Applications
For Meat Items : Beef Cuts, Chicken Cuts, Pork Cuts, Fish, Sausage, Lamb, Sheep, Mutton And Other Seafood Items
For Fruits/sushi : All Kind Of Fruits, Water Fruits.