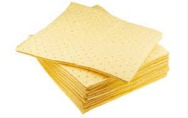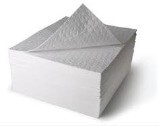 Advantages:-
• Fast wicking fibres absorb up to 15 times their weight in hydrocarbon.
• These durable, heavy-weight pads absorb petroleum based liquids, but never water.
• Ideal when you have to clean up oily spills or drips.
• Great option when you don't need the extra absorbency or expense of a universal absorbent.
• Strong & Durable – Won't fall apart even when fully saturated. Floats even when completely saturated.
• Color-coding helps you visually identify the right sorbent for your needs.
Applications:-
• Ideal for workshops, factories, Assembly lines, warehouses, loading bays, fuel and oil-handling facilities.
• Great for floor mop up in shis, boats, naval and service vessels, oil rigs and floating platforms.
• Use around plant and machinery during maintenance or repairs and for wiping down oily equipment.
Oil Only White Laminated Pads
PRODUCT CODE
DESCRIPTION
SIZE
QUANTITY
ABSORBS/PC
FPP1519H
HEAVYWEIGHT
15719″
100/CS
1.2 LTR
FPP1519M
MEDIUM WEIGHT
15719″
100/CS
0.9 LTR
FPP1519L
LIGHTWEIGHT
15719″
100/CS
0.6 LTR
Oil Only White Laminated Pads
PRODUCT CODE
DESCRIPTION
QUANTITY
ABSORBS/PC
FPR15150H
HEAVYWEIGHT
157150°
187LTR
FPR15150M
MEDIUM WEIGHT
157150″
146LTR
FPR15150L
LIGHTWEIGHT
157150″
112LTR