Plastic Pasteur Pipettes, also known as droppers or eye droppers, are laboratory liquid handling tools that are used to transfer small quantities of liquids.
Pasteur Pipettes
Pasteur Pipettes are traditionally made from glass, although nowadays plastic Pasteur Pipettes are commonplace in labs around the world. Pasteur Pipettes are essentially glass or plastic tubes that are tapered to a narrow opening point at the lower end and fitted with a plastic or rubber bulb at the upper end. The combination of a glass Pasteur Pipette and rubber bulb can also be known as a 'teat pipette'
Source: https://www.pipette.com/Pasteur-Pipettes
Plastic Pasteur Pipettes offer the aspirating precision of a glass pipet and the safety benefits of plastic
• Plasteur Pipettes are available in two sizes: 5.75 and 9in for easier handling and longer reach for working with larger vessels
• Available in medical grade virgin polystyrene and NEW polypropylene, which provides the chemical resistivity needed for many applications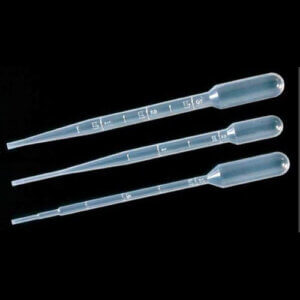 Advantages of Plastic Pasteur Pipettes
Safety
• No more broken glass – more durable than standard glass pipets
• Flexible plastic helps prevent glove or skin punctures
Efficiency
• Polypropylene Pasteur Pipettes will not shatter, eliminating losses due to broken glass fragments in your work
• Can be autoclaved
Value
• Saves time and money – Use all the pipettes in the box, as compared to traditional glass Pasteur pipets which are often damaged during shipping or handling
• Reduce cost by eliminating "sharps" disposal
Convenience
• Polypropylene Pasteur Pipettes are available packaged non-sterile in re-sealable bags with 100 pipettes per bag
• Also available packaged sterile (gamma irradiated) individually wrapped with 50 pipets per bag or bulk packed with 25 pipets per bag, so no autoclaving is necessary before use
• Available in sterile (gamma irradiated) and non-sterile pack options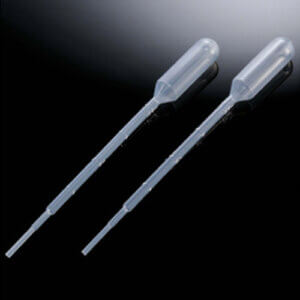 Plastic Pasteur Pipettes are produced from medical grade polystyrene in a class 100,000 cleanroom.
Plastic Pasteur pipettes are often used in biology where most media are aqueous, and solvent resistance is not important. Most organic solvents, such as hexane and acetone, cannot be used in plastic Pasteur pipets. They dissolve the plastic in these instruments, rendering them inadequate for many types of applications. The pipettes are also hard to wash, and are usually discarded with other biohazard waste after each use.
Plastic bulb pipettes are generally not precise enough to be used for exact measurements, whereas their glass counterparts can be extremely precise. The longer and thinner the tip of a glass pipette, the more exact the measurement. Usually they will be used in conjunction with a scale.
Written by Amit Gupta